QR Factory Mac 破解版 优秀的二维码制作工具
---
发表于: 2019-10-15 系统、应用软件 mac
QR Factory 是一款Mac上优秀的 二维码 制作工具,简单易用,支持9种不同类型的 二维码 ,如纯文本、邮件、手机号码、电话、日历等,支持不同颜色和风格的 二维码 样式制作,还支持批量导入、批量生成、批量导出等,非常的好用!
[QR Factory 在 Mac App Store上售价128元]
QR Factory 2.9.16 Mac 破解版 介绍
QR Factory is the end of boring black-and-white QR codes! Create QR codes from 9 different types of content and make them stand out from your competition.
Features
Create unlimited batch codes from a CSV file with no in-app purchase required.
Customize your code with smooth rounded corners, beautiful gradients, background colours, and enhanced reliability.
Save as bitmap (PNG) or vector (PDF).
Export the code information and then import it back later for less typing.
Use the full featured map search for making location codes or use an existing contact to make a MECARD/VCARD code.
Print your codes directly from the app.
Verify that your code will be readable with the built-in checker.
No Internet connection required (except for Location). Securely create your codes knowing that your data never leaves your Mac.
Built-in support for the following types of QR codes:

Plain Text
Email
URL
Location (by address or latitude/longitude)
Phone/SMS
Person (new or existing contact)
Wi-Fi Setup
Calendar Events
Twitter and Facebook
Our customers are important to us. If you have any questions or run into any issues, please email us at [email protected] and we will get back to you within one business day - and usually less.
What's new in QR Factory
Version 2.9.16:
macOS 10.15 (Catalina) support.
Using Hardened Runtime to secure the app.
Completely disabled all analytics in the Paddle service we use for licensing. A win for privacy
Version 2.9.15:
New Features:
Exporting from CSV (ex: 200,000 QR codes) is now significantly faster.
Exporting person codes from CSV now default to vCard format, instead of MECARD.
Added Internet Access Policy for Little Snitch that describes all possible connections for QR Factory.
Fixed:
Issue with person codes, where when scanning, the entire address would go into one field.
Typo in the customize code window.
v2.9.8版本新功能
[Fixed] Issue with icons drawing upside down when saved.
[Fixed] Issue with PDF/EPS saves potentially having incorrect rotation angle.
[New] Added ability to save codes in RGB, CMYK or Grayscale color spaces.
[New] Added ability to save codes in the TIFF format.
[New] Added ability for the saved codes to be rotated 90, 180 or 270 degrees.
[Improvement] Exporting codes is now up to 400% faster.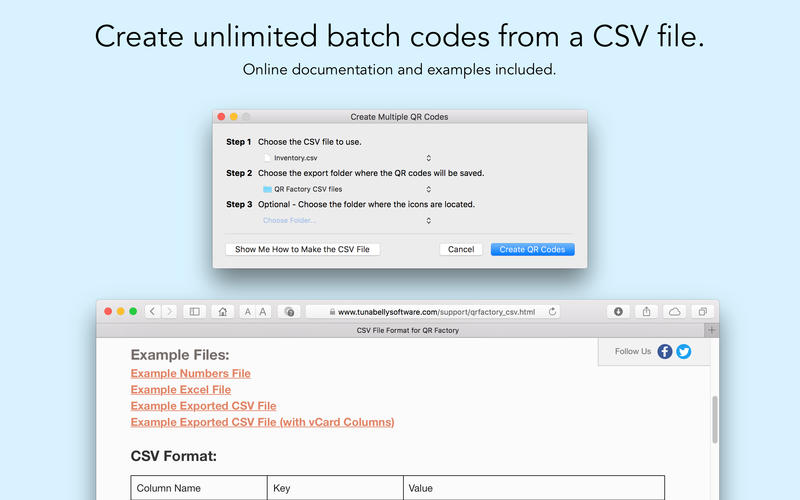 QR Factory 2.9.16 Mac 破解版 下载
---