Luminar Mac 破解版 强大易用的照片编辑工具
---
发表于: 2019-07-04 其他软件 mac
Luminar 是一款Mac上强大易用的 照片编辑 工具,软件支持中文界面,具有强大和易用的特点,界面很简洁,支持Raw等图片格式,支持照片滤镜处理,层编辑等专业功能都有,很不错的一款图片编辑工具!
[
Luminar

在官网售价 69.00 美元]
Luminar

3.1.2 Mac 破解版 介绍

为摄影师们打造最具创意的专业摄影编辑器。Luminar带来了你需要的一切,在更短的时间里制作完美的照片!

我们设计了Luminar,成为现代摄影师最好的照片软件。这听起来像是一个大胆的说法,但我们每天都在听摄影师的声音,听他们的要求和需求。超过40位专业摄影师帮助我们制作了这个版本的Luminar。

Luminar是第一个真正的Adobe Lightroom的替代品,你可以享受它,而不必负担订阅和限制功能。

在蝙蝠的右边,用改进的原始引擎获得令人惊奇的图像。用镜头校正和变换工具消除瑕疵。采用新型智能过滤器,包括独特的阳光滤光器。你甚至可以把你的Adobe Photoshop插件带到Luminar。等等。

LUMINAR IS POWERFUL
Over 40 non-destructive filters
Over 50 professional presets + custom presets
Support of Adobe Photoshop plugins
Flawless RAW support
Layers with blending modes
Masking
Lens correction and Transform
Object removal
Dodge & Burn
HSL & Curves
One-click presets
Pro color grading with Lookup Tables
History panel
Custom Textures
Dedicated workspaces for all kinds of photos
Fully non-destructive image editing
And much more...
LUMINAR IS INTUITIVE & EASY-TO-USE
Get started in less than a minute
Adjust User Interface to your liking
Quickly access the necessary tools with workspaces
Get instant results with dozens of presets
And much more...
LUMINAR IS FULL OF CREATIVITY
Accent Filter - enhance photos with Artificial Intelligence
Sun Rays - add realistic sunlight & rays
Matte, Grain, Cross process - emulate film styles & vintage looks
Orton Effect - beautiful portraits with a twist
Black & White panel - professional monochrome photo editing
Polarizing Filter - dramatically enhance skies
Golden Hour for the perfect light any time of the day
And much more...
Enjoy Luminar and make your photos beautiful faster.
For support and education visit: http://macphun.com
What's New in Luminar
Version 3.1.2:
"On This Day" feature. Photographs are all about memories. With the latest update, we let you see what pictures you took on this day in past years. To walk down memory lane with Luminar, simply click "On This Day" in the Shortcuts panel. Please note that the "On This Day" feature will only show up if you have photos in your Library taken on the current month and day in previous years.
Improved Import from flash card. Luminar 3 now brings you the fastest importing from your flash card ever. Less time waiting and more time for creativity!
Support for Nik Collection plugins. Now you can easily add plugins from the Nik Collection to your workflow and fully enjoy what they offer alongside all the tools in Luminar 3.
Overall performance and stability improvements. Improving Luminar's performance is one of our team's top priorities. With every new update, we try our best to make Luminar faster and more seamless so you can have amazing potential to express your creativity.
Version 3.1.1:
Change the language. Now you can set the language in Luminar regardless of your system settings. Simply go to Main menu > Language and choose one from the list.
Easier navigation. Want to quickly find the folder that contains a specific photo but have too many folders to go through? Now all you have to do is right-click on the photo and select Go to > Folder in Library and you're there!
Improved launch time. Now, starting from the second launch, the average launch time for Luminar is significantly faster. Even if you have hundreds of thousands of photos in your Library.
Faster album creation. In this update, we've boosted the speed of Luminar when creating new albums with large numbers of photos.
Version 3.1.0:
New Features
Accent AI 2.0. An improved algorithm that makes this a go-to filer. New "human-aware" technology recognizes people in your photos and applies adjustments selectively for more realistic images.
RAW + JPEG pairs. When you import Raw and JPEG pairs, you can decide which files to see. View just Raw or JPEG for a less cluttered library, or see both and use the JPEG file as a reference as you edit. Edits to each file are independent but can be easily synced. Use the View menu to control which images are shown for a clutter-free library.
Selective sync adjustments. Once you've created the perfect style, apply it to all shots in your series with the improved Adjustment Sync. You can now select multiple photos and apply the same adjustments in just one click. Filters and Looks are transferred instantly, while image-specific changes like cloning and cropping are ignored.
Better sorting. When you choose to sort your images using another method (such as File Type or Color Label) they are also sorted by Capture Day.
Performance Improvements
Stability. Thanks to our users for reporting different issues. This version of Luminar offers general stability improvements.
Progress bar. Keep better track of what's happening when working with Luminar. You'll see a progress bar when using tools like Erase or when running Luminar as a third-party filter.
Version 3.0.2:
New Features
Database management. Your luminar 3 image catalog database is automatically backed up to preserve your edits and metadata. You can control the frequency of backups with the new preference panel
Preference panel. Take control of your preferences settings by choosing luminar 3 > preferences. You can specify options for cache, catalog, and automatic backup
Improved handoffs. If you're working with raw file or 16-bit image and use the file > open in command, a high-quality 16-bit files is exported
Aurora hdr integration. Easily hand off bracketed photos to merge in aurora hdr. Just select multiple photos in your library and choose file > open in > aurora hdr
Please note that when sending images, your original, unmodified photos are used. When finished in aurora hdr, be sure to save a tiff or jpeg file back to the original folder to add it to your luminar library
Locate folder. Have you moved or copied media to a new location? You can right-click on an offline folder and choose locate folder to select and reconnect files
Adding folder improvements. Change your mind when adding a folder? Just click cancel to stop the current task
Improved navigation. Quickly switch between gallery and single image view with dedicated toolbar buttons
New languages supported. Use luminar 3 in more languages with new localizations:

Chinese simplified
Chinese traditional
Korean
Portuguese
Russian
Italian

Safer imports & copies. Luminar 3 will alert you if you try to import or copy more files to a new destination when there's not enough hard drive space
Improved exports. If you try to export images that already exist in a location you'll be prompted to control if the files are overwritten or renamed

Performance improvements:

Improved moving. When files are moved between an external and internal drive, the images are not duplicated multiple times in your library
Improved folder management. Are you done with a folder? You can now remove the parent (root folders) from your library and delete it from your hard drive too
Improved srgb exports. Some cameras showed color shifts when exporting with the srgb profile. This has been addressed
Improved luminar 2018 project files. Opening native luminar files (.lmnr files) created on windows platform is improved
Stability. Thanks to our users for reporting different issues. This version of luminar offers general stability improvements
New Cameras Added:
NIKON

Nikon D3500
Nikon P1000
Nikon Z6
Nikon Z7

PANASONIC:

Panasonic Lumix DC-LX100 II

FUJIFILM:

Fujifilm GFX 50R
Fujifilm X-T3

SONY:

Sony RX100VA
Sony RX100VI
Sony DSC-HX99
Sony DSC-HX95

LEICA:

Leica M10-D
Leica M10-P
Leica D-Lux 7
Version 1.3.2:
NEW AI Sky Enhancer
The AI Sky Enhancer allows you to get beautiful skies almost instantly with artificial intelligence and a single slider. Luminar analyzes and detects the sky in an image to improve the texture, tone, and colors of the sky itself. The filter can recognize sky in most photos as well as distinguish between water and other elements in a photograph. It also detects the objects in the foreground and their edges for perfect masking.
Note: If the controls are grayed out after applying the filter, the artificial intelligence couldn't recognize the sky in the photo. Skies that are very out of focus or blurred may not be detected automatically. It may also be grayed out if the filter determines that the sky does not need enhancement. If you want to stylize the sky, explore filters such as Golden Hour, Polarizer, Vibrancy, and HSL.
Improved
Luminosity Masks. Improved performance when opening up existing documents with Luminosity masks
TIFF Files. Increased stability exporting TIFF files with 8 bits per channel bit depth
Filters B&W Conversion, Bi-Color Toning, Photo Filter. The controls Luminance and Saturation are available when these filters are added a second time
Grain effect. All filters and Looks which include Grain effect work properly
Speed of sliders
Crop tool in Photos Extension
Crop Tool. Properly see a gridview while changing the angle of the image in Crop tool
Sharing to Facebook and Twitter. Due to the recent changes in personal security with Facebook and Twitter, the ability to post directly to a social network from Luminar has been temporarily removed for users on MacOS Mojave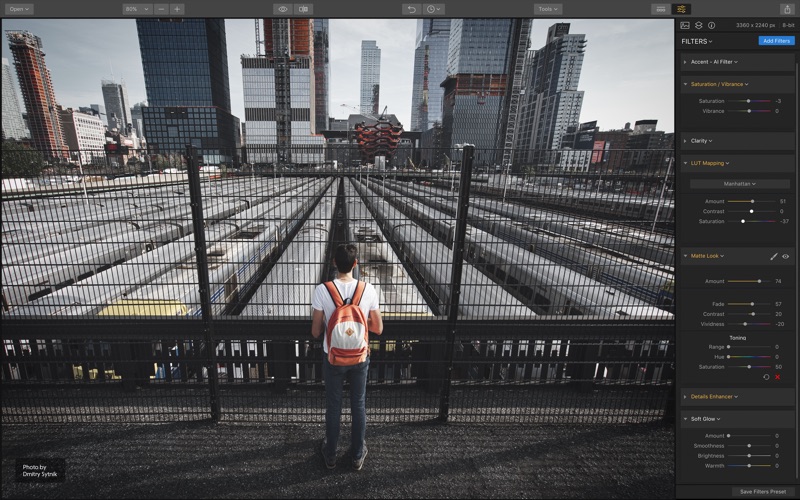 Luminar 3.1.2 Mac 破解版 下载
---